Antistatic bags are used to store electronic components sensitive to electrostatic discharge (ESD). In many cases, the antistatic bag is constructed in a way that also reduces the risk ordinary mechanical damage when the product is shipped.
Antistatic bags are typically made from plastic polyethylene terephthalate (PET).
Dissipative antistatic bags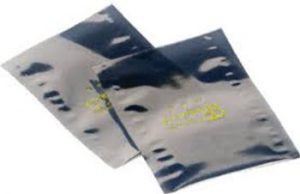 Dissipative antistatic bags are made from standard polyethylene where a static dissipative coating / layer has been placed on the plastic. This prevents static charge from building up on the surface of the bag, since any static charge will dissipate to whatever other surface it's touching.
A dissipative antistatic bag will typically have a tallow amine on its surface. This tallow amine attracts moisture. The moisture is conductive and transfers the charge to either another surface or to the atmosphere.
The dissipative chemical layer is typically pink or red, but black bags are commonly available as well. In the black bags, the polyethylene contains trace amounts of carbon.
Although the dissipative antistatic bag prevents the build up of static charge, it is not resistant to electrostatic discharge. This means that if something else with a charge comes in contact with the bag, the charge can transfer through the bag and reach its contents.
Conductive antistatic bags
Conductive antistatic bags have both a layer of conductive metal and a dielectric layer of plastic. There is also a layer of static dissipative coating. The metal used is normally aluminium.
A conductive antistatic bag is used when the electronic product needs to be protected by a shield and a non-conductive barrier. Part of the protection is caused by the Faraday effect, just like being inside a metallic car protects you during an electrical storm.
Pros
Suitable for really sensitive electronic components
Suitable in environments where sparks must be avoided, e.g. oxygen-rich environments in hospitals and aircrafts.
Cons
Any puncture will compromise the integrity of the shield.
Comparatively limited shelf life, since the metal substrate can deteriorate fairly quickly.
What is polyethylene terephthalate (PET)?
Polyethylene terephthalate (PET) is a type of thermoplastic polymer resin belonging to the polyester family. In its natural state, it is a colourless semi-crystalline resin. It is very lightweight. Its rigidity depends on how its processed, and vary from rigid to semi-rigid. PET is a good barrier against gas and a fair barrier against moisture, but additional barrier treatment is required for it to be a good barrier against alcohol.
Polyethylene terephthalate was patented in 1941 by John Rex Whinfield, James Tennant Dickson and their employer the Calico Printers' Association of Manchester, England.
Alternative names
Polyester (in the context of textile applications)
Terylene (brand name)
Dacron (brand name)
Lavsan (brand name)