It is difficult to imagine a modern grocery store or home electronics shop without any folding cartons made of paperboard that has been printed, laminated, cut and then folded (and sometimes also glued).
Folding cartons are shipped flat to a packager, reducing the cost and environmental footprint associated with the transport. The packager uses machinery to fold the carton into its final shape.
From its humble origins in the 1800s, the folding carton business has grown into an estimated $80 billion a year industry. Since the 1990s, a lot of the pulp used for making folding cartons have been reprocessed (recycled) scrap paper.
History of the folding carton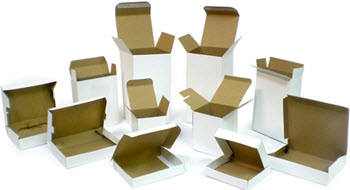 By the mid-1800s, cartons were still meticulously made by hand and carefully held together with tacks and string. They were typically used for pricey goods, such as jewelry.
Two men came to play important roles in changing this practice: Robert Gair in the United States and Charles Henry Foyle in England.
Robert Gair
In 1879, Robert Gair invented a method for mass production of prefabricated paper cartons.
Gair was a printer and paper bag maker based in Brooklyn, New York City, were he ran the Robert Gair Company.
One day, machinery at the end of the press was set up carelessly by a pressman. Because of this, a metal ruler used to crease bags accidentally shifted position and cut the bag instead of creasing it.
Gair realized that by cutting, creasing and printing paperboard in one operation, he could create prefabricated printed cartons in a very efficient manner. Previously, all cardboard cartons had been cut by hand.
Gair eventually founded a paper empire that included, among other things, a profitable corrugated fiberboard shipping container business. For many years, he worked closely with E.S. & A Robinson.
Several buildings in New York City still bear the name Gair.
The National Biscuit Company leads the way
The first major company to adopt the new cartons was The National Biscuit Company (Nabisco) who started using them for their Uneeda Biscuits in 1897.
Soon, other large players followed in suit. The folding carton was comparatively inexpensive and information and advertisements could be printed directly on it. Even products that weren't luxury goods by any means could be placed inside a pretty folding carton to give them a bit of glamour.
Charles Henry Foyle
Charles Henry Foyle of Birmingham, England is often credited as the inventor of the folding carton. In 1920, Foyle founded the company Boxfolida in Birmingham. His brothers, William and Gilbert Foyle, were also sort of in the paper business as the founders of Foyles Bookshop in London.
C.H. Foyle privately published Alice Through The Paper-Mill, a satire on war-time paper control regulations, illustrated by Arthur Wragg. Foyle died in 1948, eight years after creating a £7,000 charitable trust to aid medical and educational facilities, housing for working class people, and more.